A Synopsis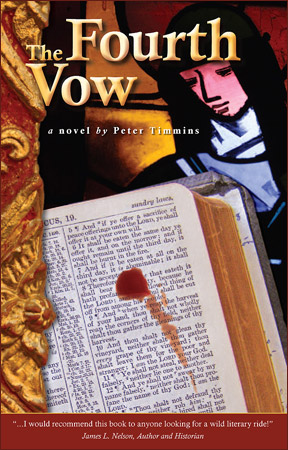 For the past 800 years or more the history of the Roman Catholic Church has been heavily influenced by the spirit and energy of Religious Orders of men and women who have, under the inspired rule of their saintly founders, lived the three sacred vows of poverty, chastity and obedience and have done so in the service of all of God's people throughout the known world.
Now, in the early years of the third millennium, all of these Orders are dealing with a drastic reduction in their numbers and a corresponding increase in their average age which is universally estimated to be in the mid 70s.
It is only a matter of time before many of these communities will cease to exist.
The Fourth Vow is centered upon the final chapter in the life of a fictional Order of teaching Sisters, whose private schools dedicated to the education of the daughters of the aristocracy were, at one time, to be found in almost every major city in Europe and the Americas. Individually the Sisters own nothing but corporately, through 300 years of accumulated endowments both in cash and in land, they are now worth hundreds of millions of US dollars.
All of the above will eventually devolve to the Vatican unless they decide to liquidate and disperse their assets while they are still in control. Enter three former students who have maintained a loose friendship over the past 20 years. They develop their own idea of how this fortune might well be divided and they vow to see it through.
The three women are the main actors in a varied cast of characters that includes a handful of very human Sisters, a cigar smoking American bishop, a Caymanian solicitor, an embittered RAF test pilot, a cool, professional hit man and one or two rather sinister Nigerian scam artists. These, along with a number of other notables, are more or less connected to each other in a web of greed, generosity, holiness, evil, kindness, murder, transparency and mystery.
In this reflection of the real world the good do not always prosper. Nor do the not so good always flounder; nor, for that matter, do things always turn out as the reader might expect or wish.
"The Fourth Vow is a wonderful story into which the reader is skillfully pulled." -Jack Ryan, Ryan Communications
"Imaginative and full of surprises...Part of the charm lies in the way Peter Timmins takes a deceptively calm setting--and then swirls in secrets, con artists, a missing plane, dangerous lies, tropical islands, lethal choices, and tensions that are bound to explode." -Emily Worthy Carmain, Editor and Writer
"I love the premise of The Fourth Vow and I love the way Fr.Peter Timmins has carried it off. The book is the product of a great imagination and a lifetime of knowledge of the subject on which he writes (the Church, that is, not crime. As far as I know). I would recommend this book to anyone looking for a wild literary ride!" -James L. Nelson, Author and Historian.
This book may be ordered through any bookstore or online retailers such as Amazon, or Barnes and Noble. The Fourth Vow is also available in Kindle, Apple and most other ebook formats.